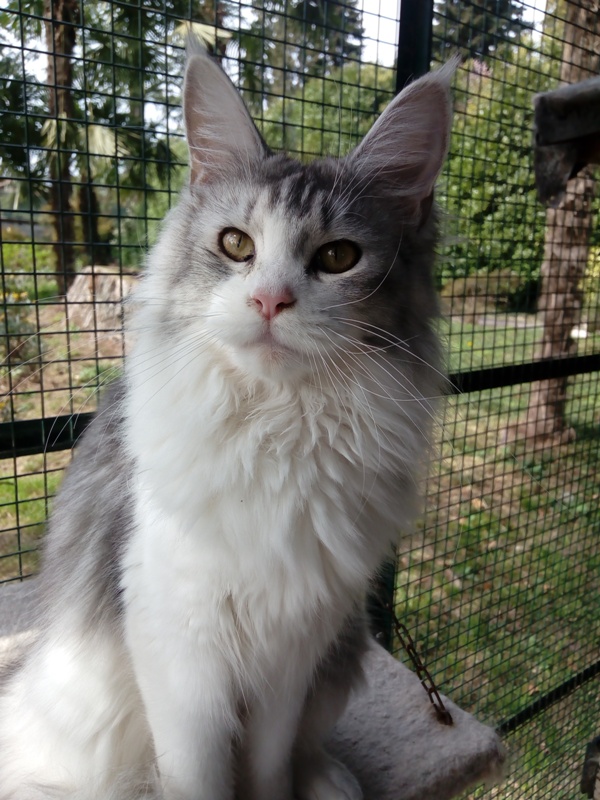 Laya is coming from the first litter of her parents Lady and Tabris. It was a litter of 5 kittens and are very tipical beautiful kittens. Laya was born as the last one of the litter and was born died without respiration. But I understood it was the question of lacking oxygene, I started pumping her belly between her lungs. After 10 inutes of my continuous efforts, Laya started respire !! How it was amazing and big joy I had !! Laya was rather big baby and her mother had the hard time giving birth, therefore took a lot of time. Among frequent contractions of her mother, the placenta which was connected to Laya got out from mother's uterus then Laya lacked the oxygene. I saved the life of a baby !! It was hard but I convinced myself that I may achieve to save her !! Surely Laya is our precious baby to stay with us.
Laya is now grown up well without any problem and she has thick body and very healthy.
Laya has beutiful head type with squared muzzle and strong chin. Her profile is well pronounced. Her tail and body are very long. Laya has pretty light coloured coat of Black Silver Ticked Tabby with White, that's her name Himalaya is coming from.
Laya has so sweet character and every body love her and she likes to be cuddled :-))
Laya is genetically absent of HCM and PKDeficiency.