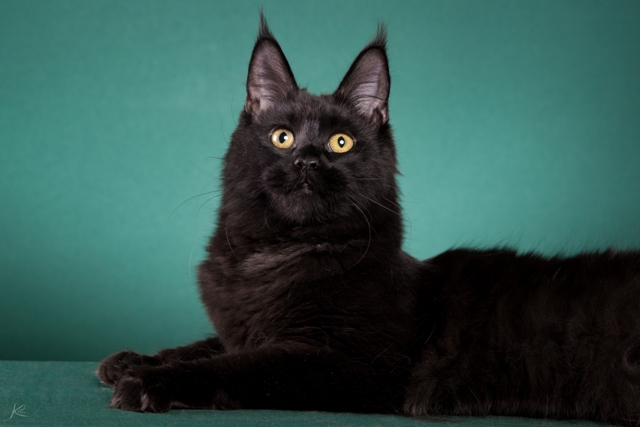 is out of our beloved

Boots

and our

friend Carmen Ortoni's

gorgeous black boy Felidream Siddartha.

We longed so much having a black cat and here she is arrived. Her expressive gold eyes are like seeing aggressive wild cat, but in reality she is a so sweet and adorable girl. She has

extremely well set large ears, very nice profile and a strong chin, a very long body and tail. Samantha

stays always beside us and likes to be caressed. She is also a playfull girl.

She is from a gorgeous litter of 4 and most of them are having nice carriers of the shows. Avatar, her brother has the successes at Fife shows in Europe and almost becoming Junior Winner.

Also Samantha and her sister Tosca got the finals at their first Tica show in kitten's class.

Samantha's blood line is from our original line, from Time/Bella to Baci to Bubba then May, and to her mother Boots, 19 years of successful generations.

She is genetically N/N of HCM and PKD. Recently we also checked her PKDeficiency and the result was Negative.

She had been shown at Rome Tica Show on the February '14, got many finals and gained the title of Double Grand Champion in only one show.

Samantha you're great !!