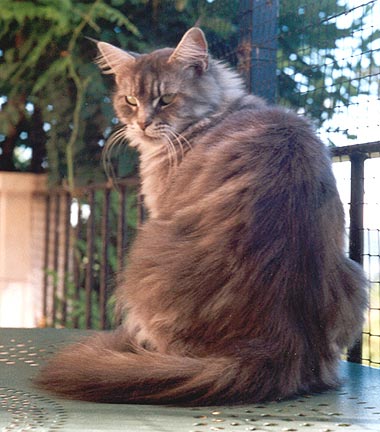 Bella

was our first female: when Time was 2 years old, we decided it was the right time for him to breed: but we had to find for him an equally exceptional wife, not an easy task! We moved then to California: with a rented car we drove up and down the area
between Los Angeles and San Francisco, where some of the finest US Maine Coon catteries are located, until we encountered Bella and her marvelous expression and eyes which enchanted us!

Bella soon become an International Champion in Traditional shows and is the mother of numerous famous kittens, like

GRC TICA WISTARIANTALE EARTHQUAKE

,

INT. CH. & TICA CH.

WISTARIANTALE EXCUSE ME of ESPECIALLY

,

WISTARIANTALE EMERGENCY EXIT of HAUTSARTOUX

,

WISTARIANTALE FINAL LAP of APPALACHES

, DGC TICA WISTARIANTALE BACI of COONYHAM

Bella has a wonderful character, full of joy and affection, giving kisses to every human friends and when we call her she answers us immediately and comes running close by us and keeps following us around the house like a little dog!




BELLA

has solid boning, a strong chin, and large and very expressive green-gold eyes. She has a lot of gorgeous blue silver coat.

And she is a perfect mother: sometimes she has delivered her babies without assistance but she managed everything all by herself and took excellent care in raising and training her kittens. Last year, she gave birth a litter of very pretty girls with EU. CH. & QGC TICA COONCREOLE SHERWOOD of CORALCOON.

She became a mother of three very nice kittens born on April 1st 02. The father is our big red ERIC! Nowadays all of them participate

in

cat shows with excellent results.

After the good results of this litter, we tried to repeat the same breeding but Bella had a serious uterus infection and had to be neuterized. Now her life is saved, she is getting better and became a happy cat as before.

On October 20th, at the age of 17, she left us to join her husband Time.
We had wonderful breeding career started with her. Now her blood line is still living with us, with May, Boots and Samantha. Sleep well Bella. We loved you and miss you so much...