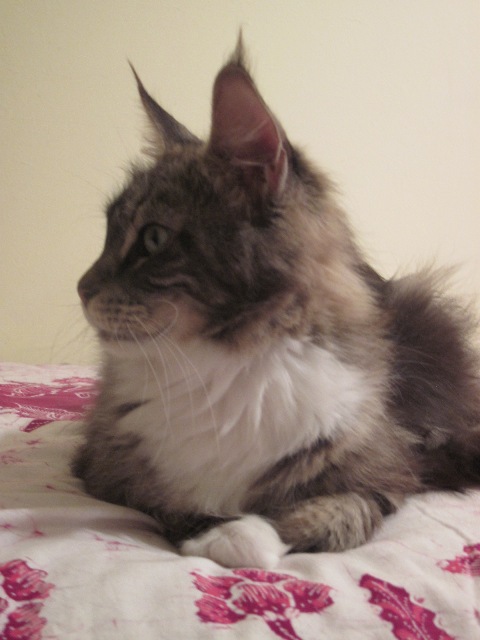 Boots is out of the last litter of May with Genji. This litter was three babies; one girl and two boys,and are all wonderful, very tipy babies. Her mother May is a black silver classic tabby & our breeding girl out of Bubba and Zelda, and she is Quadruple Grand Champion who got Regional Winner title for three times. The father Genji is a black silver classic tabby with white, International Winner & Supreme Grand Champion Tica who came from Japan - Williamina, and is a great breeder who gives always excellent wonderful types to the babies.
Boots has the amazing large ears highly set and very squared muzzle with a wonderful profile. She is not a huge girl but her body & tail are very long. Besides, she has an extraordinary character always purring next to us - sometimes she likes to climb up to our shoulder and leaks our cheek ;-))
Boots' mother May has been tested DNA with HCM Negative and the father's side is also DNA Negative..
Boots had litter of 3 with Max; 1 black boy, 1 black silver classic tabby with white boy and 1 brown classic tabby girl. They are very healthy and big boning kittens. At July '10 Boots had an another wonderful litter with Roman Empire. After absence of two years, she had a litter of 3 with Tao and we kept a wonderful brown high white boy named Liberation. Now she had a nice litter of 4 with a extraordinary black boy of my friend's cattery "Felidream" in Varese.
The list of her litters:
Boots x Max (3kittens ) --> photo
Boots x Roman Empire (3 kittens) --> photo
Boots x Tao (3 kittens) --> photo
Boots x Sid (4 kittens) --> photo
AWARDS(TICA)
kitten class:
6°, 6°, 4° (A)(01/09)
8°(A) (02/09)