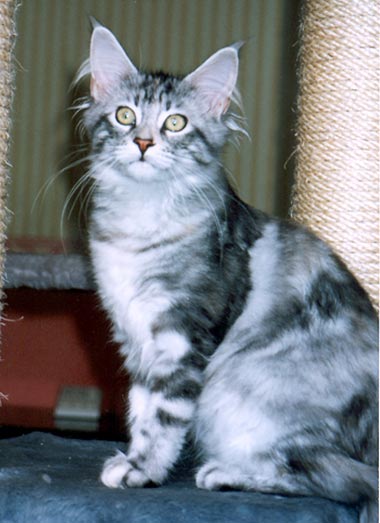 ZELDA comes from the French breeder Didier Duvilliers of the Appalaches cattery. Her most striking characteristic is the intense look of her very big round eyes: she looks always astonished and intense, and visitors are always surprised!

ZELDA has a most unusual body colour with pure red colour only on the head and very prettily contrasted silver and black on her body. She has big ears, a very long body and tail, a square muzzle and good chin and she has a very independent character.

ZELDA may be homozygous of silver as she made ONLY the silver gened babies.

Zelda had 5 big babies with our blue smoke Bubba. All of them are silver gened! They were born on May 1st '02, together with Pan's litter. Pan and Zelda have been baby-sitting eachother: it was very funny and so sweet: how two females can be very friendly and generous eachother!!

Both the litters of Zelda and Pan were born on the same day. The two mothers had become good friends and when Zelda went into labor, Pan wanted to be near Zelda and worried as if it were her daughter to give birth. While Zelda was cleaning the newborns, Pan was cleaning Zelda's bottom. Especially when Pan started labor, Zelda wanted to hold Pan in her arms to encourage her. It was an impressive and very emotional scene. The two females breastfed all the kittens without distinction until they were weaned.

In January 2002 she had HCM test and passed throughly. And also she is tested HD in April '03 and had a excellent result. It proves that she is a qualified breeding cat.

The list of Zelda's litter :

Zelda x Turok (2001, 1 red silver boy, 1 silver boy, 1 silver girl e 1 silver torbie girl ) -- photo

Zelda x Bubba

(2002, 2

red silver boys

, 2

silver

girls & 1 silver torbie girl ) -- photo

Zelda x Milky ( 2005, 1 red silver boy & 1 white girl ) -- photo

Zelda also left us in July '05. We were not able to survive two kittens in her belly....