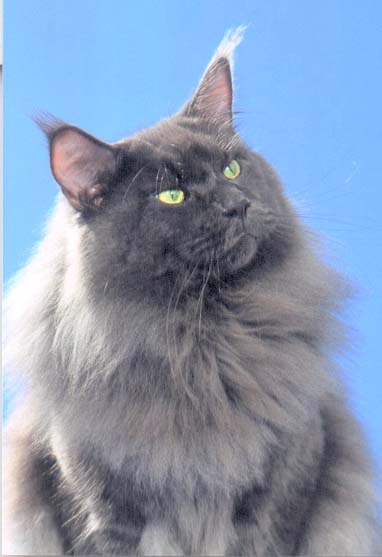 Coonyham Casanova of Wistariantale (otherwise known as BUBBA) is the son of our own beloved girl, BACI, who lives in California with the COONYHAM cattery, and of IW SGC COONYHAM LONE STAR.
He is a cat whom we initially thought would be difficult to show because his solid blue colour in part disguises his magnificent physical conformation. But in reality, Bubba became one of the symbols of our cattery in short time because of his extremely big ears, very long and square muzzle < with full of intensity>. He has a well structured and hard muscled long body with a very thick and evenly colored pale blue coat. He also has expressive, large, golden-green eyes. We can easily imagine him as a powerful lynx ready to attack; but this italo-american giant ( 8kg at 1 year and seven months) has a gentle and sweet character, even sometimes reserved at times.
In April 2001, at the end of TICA's show season, Bubba obtained the qualification of DGC and RW. And in 2001 he fully completed his TICA career with the title of SUPREME GRAND CHAMPION.
In 2002, he gained again the title of REGIONAL WINNER as the second year and became BEST BLUE MAINE COON OF THE YEAR 2001/2002 (TICA) and BEST MAINE COON OF THE YEAR 2001/2002 (Europe South).
In april '03 he had his first controll of HCM and had a GOOD result and his HD was OK but is near border line.
We can't thank Laura and Sharon enough for letting us choose this extraordinary boy!
On March '04 we found that Bubba is a BLUE SMOKE instead of blue solid as he produced silver gened babies with Tora (brown tabby) in two litters. How surprise !! Maybe his silver part is minor and he doesn't show it so much in his coat, but as his mother is a silver it isn't impossible that he is silver gened.
The list of his litters :
* Bubba x Zora (2001 un maschio silver) --- photo
* Bubba x Zelda (2002 due maschi redsilver, due femmine silver e una femmina silver tortie) --- photo
* Bubba x Tora (2003 una femmina bluesilver) --- photo
* Bubba x Tora (2004 un maschio brown, un maschio bluetabby, un maschi bluesilver, una femmina brown, una femmina silver) --- photo
* Bubba x Tora (2004 un brown maschio, due blue tabby maschi, un bluesilver maschi e una blue tabby femmina) --- photo
He started having the health problem with Diabetes on Dicember '05 and we tried all possible cures to save him, but even with our efforts he passed away on March 6th '06. He had the cancer of Pancreas. We wish he will have a happier life in the world of heaven.