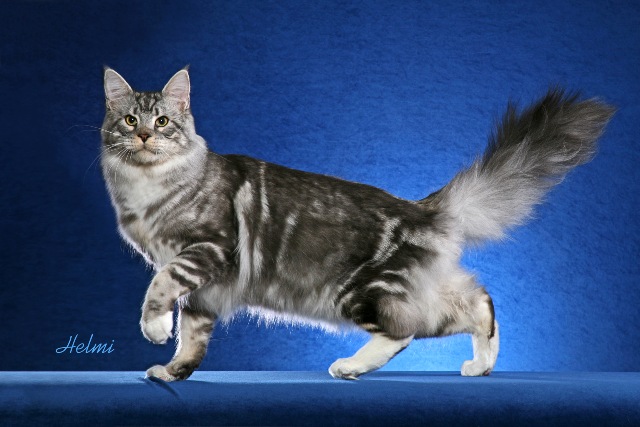 When I visited my cat-friend Michi in Japan I saw a wonderful silver high white boy called Ranger and I fell in love with him immediately. He impressed me with his superb body: full, square muzzle and huge ears and his elegant wonderful silver coat !! Also he is so sweet !! Then I waited for two litters to get one boy from him, and finally arrived a boy named GENJI as like a Royal Price of 11th century in Japan.
GENJI is a very vivid boy playing so much and I have to cover furniture ornaments and antique curtains as he might destroy them playing !! J But he is also a sweet lovely boy like his father purring all the time even he has a ferral look (very much feline-like).
A part of his wonderful character, his body , head type are so highly standered. In his first show in Austria at his age of 6 months, in kitten class, he got an incredible success having 9 finals out of 12 including 5 Best Kitten and finally got 3rd Best of Best Kitten of the whole Show. Many judges gave compliments saying he is a very promising wonderful boy!!
His parents are SGC.SARAJEN TEXAS RANGER OF WILLIAMINA and RW.SGC.LUNARCOON SELENE OF WILLIAMINA, and IW.SGC.WILLIAMINA FAIR WIND is a elder brother with the same parents.
Both of his parents are HCM free with DNA tested and PKD free. We made him cheched by echo on March '14 and found his heart is healthy. Eventually we checked his PKDeficiency and the result was negative.
He got the best title Tica as International Winner 2007/2008 and he became the best Maine Coon in Europe !! We are very proud of Genji as he did so well in the shows.
I thank so much Michi that she gave me such a wonderful boy.
Now at the age of 10 years old he is retired from the world of breeding.
Genji you were a great breeder, your blood is remaining in the whole world. Now enjoy your retired life. Big kisses from all of us. Thank you again.
The list of his litters:
KITTEN CLASS:
3°,4°,1°,1°,3°,2°,1°,1°,1°(A) (06/07)
3rd BEST MAINE COON kITTEN OF THE YER 2007/2008(ES)
ADULT CLASS:
7°,2°,6°,2°,2°,8°,4°,4°,1°,1° (A) (09/07) (3rd Best of Best)-->DOUBLE GRAND CHMPION
9°,4°,5°,8° (CH) (09/07) -----> TRIPLE GRAND CHAMPION
10°,7°,7° (D) (10/07) -----> QUADRUPLE GRAND CHAMPION
10°6°,8°,3°,5°,9°,5°,1°,5°,5°,9°(B) (10/07) -----> SUPREME GRAND CHAMPION
2°,5°,5°,1°,3°,10°,1°,5°,1°,1°(F) (10/07) (2nd Best of Best in the show)
9°,5°.2°,3°,1°,3°,1° (NL) (11/07)
2°,7°,4°,3°,3°.1°.4°,5°,2°,4°(B) (11/07) (3rd Best of Best in the show)
4°,4°,2°,4°,6°,1°(D) (12/07)
3°,2°,1°,5°,5°,1°,3°(A)( 01/08)
5°,10°(USA)(01/08)
5°,4°,1°,5°,6°,2°(F)(01/08)
6°,1°(D) (02/08)
3°,3°,8°,4°,4°,6°,10°,4°,6°,3°,4°(F) (02/08) (2nd Best of Best in the show)
1°,5°,2°,3°,4°,3°,1°,2°,1°,3°(F) (03/08) (2nd Best of Best in the show)
3°,2°,7°,5°,10°,9°,6°,7°,6°,4°,4°,6° (B)(03/08)-->INTERNATIONAL WINNER 2007/2008)
BEST BLACK SILVER CLASSIC TABBY/WHITE MAINE COON OF THE YEAR (INT) (2007/2008)
15TH BEST LONG HAIR CAT OF THE YEAR (INT) (2007/2008)-->INTERNATIONAL WINNER
5TH BEST ALL BREED CAT OF THE YEAR (ES) (2007/2008)-->REGIONAL WINNER
BEST MAINE COON OF THE YEAR 2007/2008 (ES) ---> BEST EUROPEEAN MAINE COON
3RD BEST LONGHAIR CAT OF THE YEAR 2007/2008 (ES)
BEST BLACK SILVER CLASSIC TABBY/W MAINE COON OF THE YEAR (ES)
Genji has been pubblished on the locale newspaper in Varese at Jully '09. His article says that Genji is the most beautiful cat in the world and explaining about his carrier as the International Winner Tica, what he eats and how his owner turned around the world from Europe up to USA. The article says also the city of Varese is very proud of having such a wonderful cat. His news occupied half of the page of the newspaper with big photo of Genji