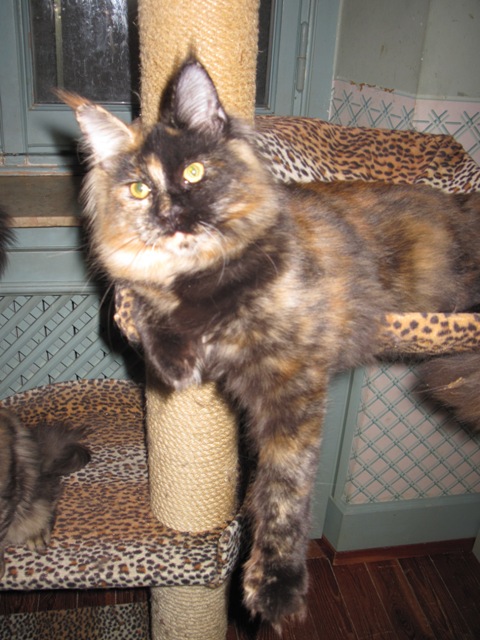 GALE comes from the Russian Cattery COONUNG of Anna Karpova.
GALE has an extremely gentle character and wants to stay with us purring always ;-)) She is integrated easily into our cattery and plays friendly with our kittens. She has a extraordinary head type with enormous highly set ears, strong deep chin and her profile is wonderful. She has also the big boning, long body with long fluffy gorgeous tale. Her body colour is like a red painting on the black cambus - her red colour is like a red flush lights.
Her father is a wonderful black boy SGC. BIG KITTY ZANDER and her mother is QGC.Tica JUSTCOONS REVOLUTION OF COONUNG. Both of them are HCM-N/N, PKD negative.
After arriving to us she has been shown at Tica Shows as a kitten and then now as a adult she got a Title of Triple Grand Champion.
Now after having many kittens, she is neutered and will enjoy the retired life. Thank you Gale, you gave us wondersful babies and you were one of best mammies !!
The list of her litters:
Gale x Tao (1 kitten) --> photo
Gale x Mic (6 kittens) --> photo
Gale x Genji (3 kittens) --> photo
Gale x Mic (4 kittens) --> photo