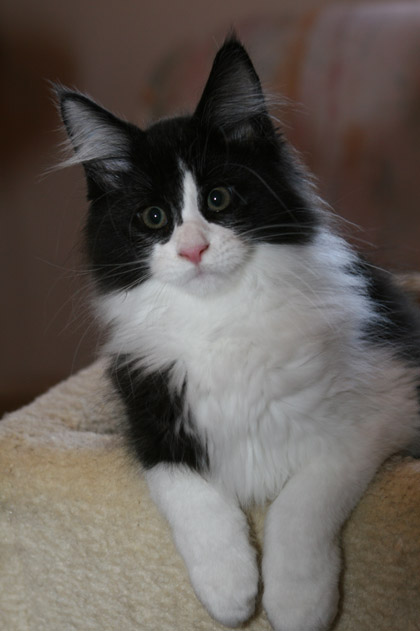 TAO is coming from SARAJEN cattery in Virginia USA. His father is RW.SGC.SARAJEN VIRGINIA GENTLEMAN - Red Classic Tabby with White and his mother is CH.SARAJEN MAGILLIGAN - Brown Ticked Tabby.
So long time we've been waiting to get black & white cat and finally we received TAO now. TAO has a exceptional nice character and he comes always up on the lap asking cuddlings. He is a playful and a very friendly guy purring all the time ;-)) His body is very heavy with big boning and musculs, also is very long besides his breast is very large and thick. His head is wonderful with perfect profile and his muzzle is very squared with strong chin. The ears are large and placed well in high.
His name TAO is taken by his body colour, black and white, as like the symbol of Chinese Taoism, the colour of Yin and Yang.
The parents of TAO are HCM negative with the control of DNA, and HD negative.
We can't say enough thank you to Teri who gave us TAO who is wonderful and so pleasante. We're all in love with TAO !!
Now Tao has been spayed and we are looking for a new home of adoption.