in our memory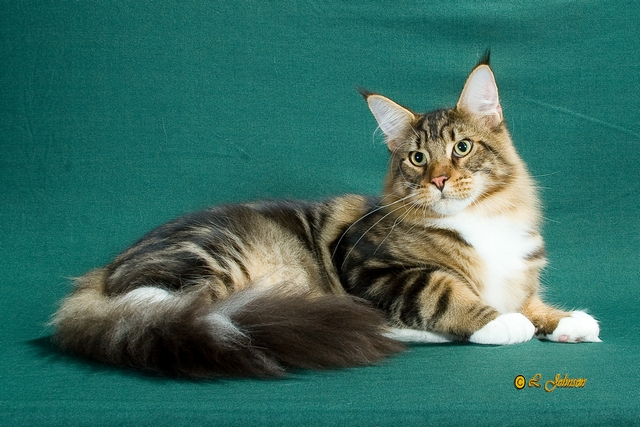 Tempesta is out of first combination between Genji and Saigon. This litter was with 5 wonderful babies and all of them are gone to the breeders. The sister of Tempesta who was gone to US breeder is getting success as QGC TICA.
When Tempesta became 6 months old we started to show him in Austria with his litter brother - a black silver named Lupo, and they had the big success eachother. After in the class of adult in only one show Tempesta got a title of ONE-SHOW GRAND CHAMPION.
Now, after three shows, Tempesta gained Quadruple Grand Champion title. He is a very promised giant boy with the large highly set ears, squared muzzle with nice profile and he has the wonderful very contrasted coat with warm brown and black. Nowadays, Tempesta weighs 8kg at the age of 10 months with strong muscle and boning. But not only he is a handsome boy but he has an extraordinary character - so sweet and cuddling boy !!
His litter sister IMARI stays with us as well and she is a very pretty brown classic torbie with warm red colour, and another pretty litter sister in brown with white named ENIGMA is gone to live in a cattery in Nice, France. LUPO has been taken by our cat friend's Lion Heart cattery as we're not able to keep two brothers. The separation with him was very hard as we were very affectionated with Lupo who gave us always the kisses ;-)))
The both parents of Tempesta are negativ of HCM with the DNA controll..
Tempesta acchieved his title of Supreme Grand Champion as well as Regional Winner Tica on the 22nd February '10 at Toulouse France. Tempesta, you're a great boy !!!
Tempesta has been checked of FIV & FELV on April '10 and result all free.
Tempesta became father of a wonderful litter with Moxee on 5th July '10. Now he approved as a excellent producer too !!
Tempy passed away all of sudden with the problem caused calcium deposit in his bladder. We miss him so much ...
The list of his litters: