(retired)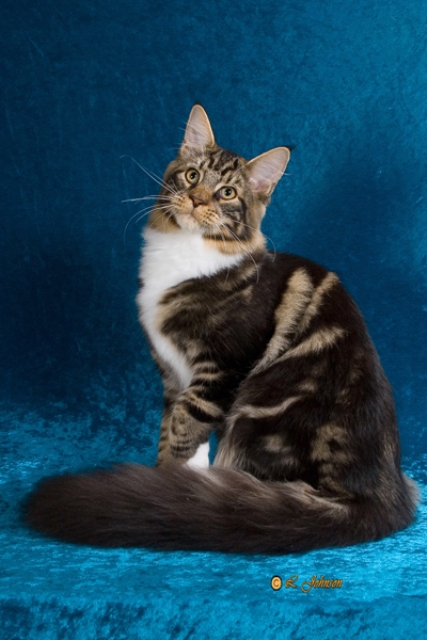 Mic is out of the first litter of Genji and Moxee. He is from a large litter of 11 babies and 7 of them are survived. He was a small baby but he had a strong vitality for surviving and now he became a very large, heavy boy. All of his litter mate became big, heavy boning, very typie cats, and most of them are wonderfully successing in European shows.
Since he was 6 months old we started showing him and he had the great successes everywhere. Especially he had the Best Of Best Kitten in Austrian Show and he approved his high quality. After becoming an adult in one show he achieved to be DOUBLE GRAND CHAMPION. He is a very promising boy and besides his character is so sweet, asking always cuddling.
His squared muzzle is almost perfect with wonderful profile and great chin. His ears are large and highly set. His body is long and very muscular, and his tail is also very long with gorgeous fluffy coat. His body color is wonderfully contrasted with shining black and warm brown colours.
His litter mates SID, PRADA, DARLING, WIZARD, SURYA, SILVERQUEEN are so gorgeous and most of them have the great carriers of shows !!!
On April '09 at Austrian Show he obtained the title of SUPREME GRAND CHAMPION & REGIONAL WINNER TICA !!
Bravo Michelangelo !!!!
He is out of both parents DNA - HCM Negative, and is checked on 27th January'14 with echo-cardio and the risult is "perfect". Eventually we checked his PKDeficincy and he is Negative as well.
Also Mic has been checked of FIV & FELV, all clear.
Mic is now neutered at early August 2018 and gives his place of breeding to the youngstars. "Thank you a lot Mic, you were a greatest stud boy who made so many Champions in this world. You made amazingly wonderful babies and we were so happy with you. Besides, your character is always so sweet and you never get angry, so sweet boy. Now you may enjoy your retired life peacefully. We love you always."
The list of Mic's litter:
Mic x Regina (2013, 4 kittens)
Mic x Juliet (2018,