RW. SGC. CLOISTERCOON JFK OF WISTARIANTALE (Fitz)
Black Silver Ticked Tabby
Born on 01. 20. 15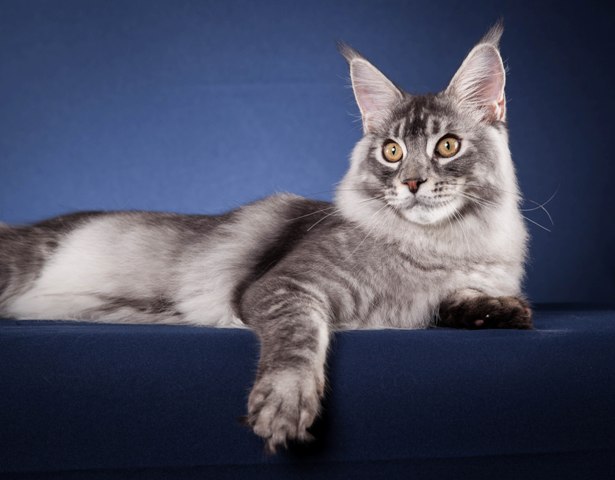 Fitz is the son of famous male IW SGC Coonificent Gizmo and the mother RW.QGC. Cloistercoon Besame Mucho, and is from a New Yorker Cattery Cloistercoon.
Fitz is a cat who is so easy to show with his wonderful caracter without afraid of anything. He has a fascinating beautiful body colour of black silver ticked tabby which is still rare in Europe. Fitz has extremely large highly set ears, has a long and squared muzzle with strong chin, and his profile is almost perfect. His expressive eyes are big with golden amber colour. This handsome American boy weighs 8 kg at the age of 11 months and he has an extraordinary sweet character but playful and even stays friendly with our dog.When he is arrived in Italy he has been shown at Tica Shows in kitten class, as he did so well that he got the title of Regional Winner. Then early January '16, he has been corfirmed as Supreme Grand Champione TICA.
We can't thank enough that David Billingsley permitted us to have this wonderful boy.
Fitz is genetically negativ of HCM, PKD and PKDeficiency. He had his first echo cardio test on 08/2016 and passed clearly. Fitz gained the title of Regional Winner at 3rd place, Europe South 2015/2016. Eventually he got the title of Reginal Winner as a kitten 2015/2016.
The list of his litters:
3°, 2°, 2°,3°, 1°, 4°, 1°, 4°, 2°, 3° (DK)(8/15)

6° (A)(9/15)Annual Show

6°, 7°, 5°, 1°, 6°, 4°, 10°, 5°, 1° (B) (9/15) --> REGIONAL WINNER
5°, 4°, 3°, 2°, 8°, 2°, 8°, 6°, 8°, 3°, 2°, 4°, 3°, 7° (A) (10/15)--> CHAMPION, GRAND CHAMPION, DOUBLE GRAND CHAMPION 4°,4°, 5°, 4°, 6°, 6°, 5° (F) (10/15)-->TRIPLE GRAND CHAMPION 5°, 4 °, 3 °,2°, 8°, 2°, 6°, 8°, 3°, 2°, 4°, 3°, 7°(A)(10/15)--> QUADRUPLE GRAND CHAMPION 4°, 5°, 4°, 2°, 3°, 1° (H)(11/15)--> SUPREME GRAND CHAMPION 3°, 9°, 8°, 5°, 5° (D)(12/15)10° (I) (01/16)9°, 6°, 10°, 10°, 3°, 4°, 6°,(D)(02/16)8° (F) (03/16) 6°, 8°, 3°, 3°, 3°, 2°, 9°, 2°,6°, 7°(H) (03/16)
8°,4°, 3°, 4° (A) (04/16) --> REGIONAL WINNER