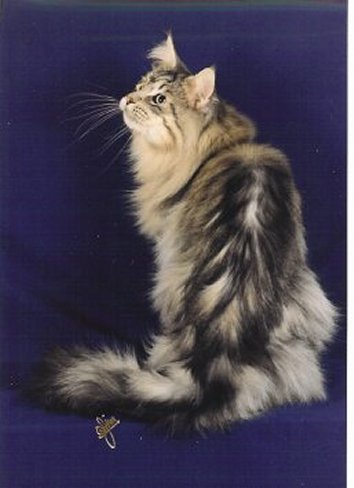 After the loss of Time, it was not easy to find an equally outstanding representative for our cattery. But finally our Japanese breeder friend sent us a picture of a silver mackerel tabby kitten who immediately impressed us with his superb body: full, square muzzle and huge ears. Here was the wonderful killer-boy for which we were looking!

As soon as Cosmo arrived from Tokyo, he started running in TICA: at 5 months of age he became a REGIONAL KITTEN WINNER and at one year of age he became a SUPREME GRAND CHAMPION.

In addition to his enormous ears, he has a wonderful muscled body, long and full tail, strong boning and above all, he has such a sweet character and is a playful boy. The judges in the shows have always appreciated this side of his personality! His favorite toy is his grey pillow, but he also likes the feet and hair of human ( he becomes crazy with these things J): he plays wonderfully with people and he has a lot of friends everywhere!
Although Cosmo has now completed his career in TICA, we still continue to show him in the traditional shows and he is now a EUROPEAN CHAMPION. Many thanks to Michiko Sasamoto who has given us this extraordinary cat and the possibility to show him.
Cosmo is son of RW.& SGC. Cosmicoon's Shogun of Williamina and Kavekats Rythm 'n Blues.
He had his first test of HCM & HD in April '02 and passed throughly.
The list of his litters :
* Cosmo x Zora (2002 one mackerel silver boy & one classic silver girl) -- photo
* Cosmo x Zora (2003 two mackerel bluesilver boys & two mackerel bluesilver girls) -- photo
* Cosmo x May (2003 one classic silver girl) -- photo
* Cosmo is neutered now and left his place of reproduction to the youngstars. He is living happily in a Milanese family who adopted him.