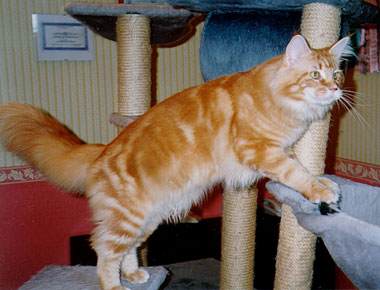 "We are waiting for a red-silver boy from the US breeders, but he never arrives!" This was the message we sent to our friend Michiko Sasamoto in Japan. After that she decided to give us a red boy which she thought of keeping for her own cattery. It was really a great surprise and with pleasure we flew him home soon afterwards. What a wonderful huge kitten he was!! He is named Eric The Red after the famous red-bearded Viking explorer. Eric has physically developed to be a a very large cat: at the age of 6 months he weighed already 6kg: at the first TICA show in Austria he attended, he was awarded as BEST OF BEST KITTEN IN SHOW.

This red colossus boy has a full and square muzzle with a strong chin, large and round gold eyes, a very impressive body both in terms of musculature and boning. He has a long and fluffy tail. His fur is uniformly intense and a warm red color with a beautifully contrasted classic pattern.
Eric has also a very sweet character. He is "simpatico" - playful and gentle, and quite an inquisitive guy!
His mother Miss Maple, is from the Canadian Hibou cattery ( CFA member). His father is one of the most famous cats in Japan, SGC,RW Cosmicoon Shogun of Williamina.
He had his first test of HCM & HD test in April '02 and passed throughly.
The list of his litters :
* Eric x Bella (2002 one silver boy , two brown tabby boys) --- photo
* Eric x Pan (2002 one silver boy, one silver torbie girl) --- photo
* Eric x Zelda (2003 two silver boys) --- photo
* Eric x Zora (2005 two brown tabby boys, two brown torbie girls) --- photo
In October 27th '06, all of a sudden he was showing the problem of the respiration. I brought him to the vet. but in 10 minuits after arrival he passed away. Diagnosty of vet was the lacking of oxygen caused fulfilled water in his lung. I was so sorry that I was not able to help him as it was so quick :-(( He was a very sweet giant boy whom I never had. I hope he will have also happy life in another world.