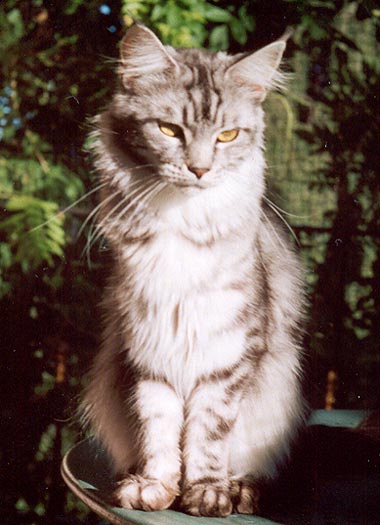 is one of the last daughters of our beloved

TIME

and

BELLA

and the littermate sister of

TICA DGC WISTARIANTALE BACI of COONYHAM

and

TICA CH. WISTARIANTALE GIMME 5

.

Her expression and her coat somewhat remind us of her great father Time. In fact she has a uniform and remarkablely well contrasted classic tabby silver coat without any tanishing. She has

coppery-gold eyes

, an intense expression, a very long tail always full of fur and the big ears of her father.

PAN is a cat who likes always to stay beside a person and asks to be caressed. As soon as we are close to her we'll find her on our lap!

Now finally, she had her first babies on 1st May '02 by

ERIC!!

Both the litters of Zelda and Pan were born on the same day. The two mothers had become good friends and when Zelda went into labor, Pan wanted to be near Zelda and worried as if it were her daughter to give birth. While Zelda was cleaning the newborns, Pan was cleaning Zelda's bottom. Especially when Pan started labor, Zelda wanted to hold Pan in her arms to encourage her. It was an impressive and very emotional scene. The two females breastfed all the kittens without distinction until they were weaned.