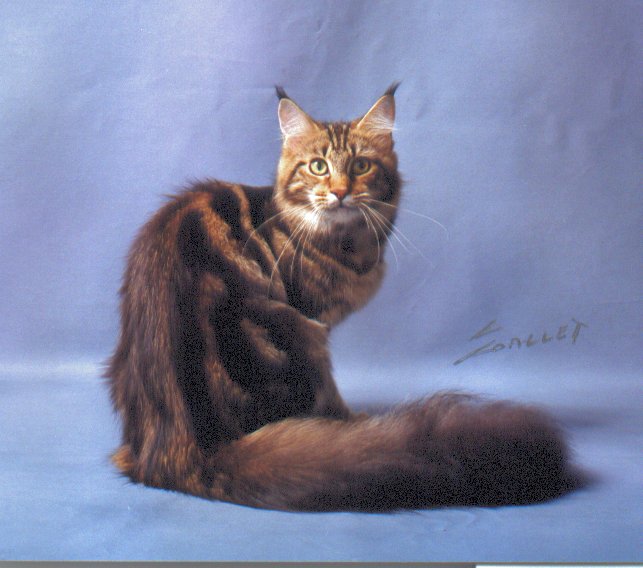 TORA comes from the austrian cattery ACADIAPARK of Barbara Wagner.
She has an extra vivacious character and since she arrived at our home she started to destroy all the things as if they were her toys: curtains, ornaments, sofas, shoes etc. We would have liked to keep her free in the house for the first period to make friendship with us, but after one month we had to put her in the kittens' room before she could destroy the whole house. She has such an extrovert character, without any fears, that I think there is nothing in her brain but playing!!. This feature is very positive in a show cat because she is always alert when the judge comes to attract her attention. Indeed TORA is now Triple Grand Champion TICA and she is only one year old!
She had her first season at 5 months old, she is very precocious and she was bred now at her fifth season by RW.QGC WISTARIANTALE MAGNIFICO of only 8 months!! ( happenning at a show hotel!) She delivered two pretty brown kittens on February 11th 2003 and is a good mommy played together with her kittens !!! ;-))
TORA has an extraordinary head type with very squared muzzle and a strong chin, her profile is pretty, her ears are big and highly set, her eyes are very expressive (like all naughty kids !). Her body and tail are extremely long, and her coat is a light brown with beautiful contrasting classic patterns.
On December 03 '03 she had another kitten girl of blue classic tabby and the father is Bubba. After that litter they had another one of five on February 10th '04.
She had her first check of HD and HCM on June '03 and the result was excellent.
She left us forever in April '05 with the sudden intestinal infection:-(( We wish she has happier life in heaven.