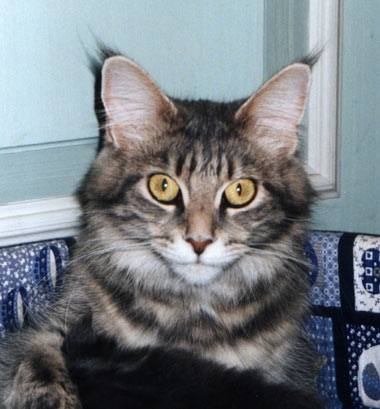 Zora's first impact is striking. Her
big gold eyes
have such an intense expression. She has nicely shaped and high set ears, also has excellent boning and muscle tone along with a very long tail.
She has a extraordinary character and very sweet girl. Besides, she is very intelligent and able to open a closed door jumping up to the handle to pull it down with her weight !! How smart isn't she !!
She is also a excellent mammy and had very pretty babies.
Zora had her first check of HCM on the 24th february '03 and passed throughly.
Also she was checked on 26th June '03 of HD and the result was excellent.
On April 14th '10 she passed away even after our cure. We tried to help her with maximum possible cures for two weeks, but finally she was invited to be a star. Thank you Zora that you gave us a lot of beutiful kittens. I send you a lot of kisses hoping you will be happy on the sky !!!
The list of Zora's litter :
Zora x Turok ( 2000, two brown boys, two brown girls, one blue tabby boy e one blue tabby girl ) -- foto
Zora x Cosmo ( 2002, one silver boy & one silver girl ) -- photo
Zora x Cosmo ( 2003, two bluesilver boys & two bluesilver girls ) -- photo
Zora x Eric ( 2005, two brown boys & two brown torbie girls ) -- photo