| | |
| --- | --- |
| | Females: Sissi |
RW.SGC.TUSCALOOSA KILDARE of WISTARIANTALE (Sissi)
Brown classic (blotched) tortie tabby
Born on 03.13.06
(neutered)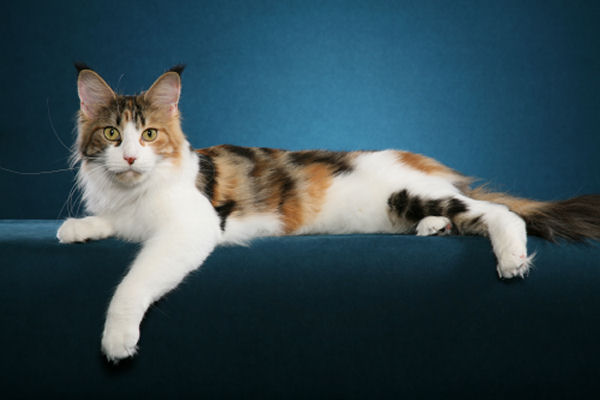 Sissi is coming from Tuscaloosa cattery of Francesca Gagern in Austria.
Sissi is fascinating very particular colored girl - her brown and bright red colors are contrasted wonderfully with high white.
She has the enormous ears very highly set with gorgeous lynx tips. Her muzzle is quite long and very squared with a strong chin. Her profile is clean, and her body and tail are long enough. She has a good boning girl.
Besides, Sissi has a wonderful friendly character and purring all the time. She is also a very playful girl.
As soon as she is arrived in Italy she was shown at Annuale Tica in Hannover, and had the successes as Best Maine Coon Kitten on 56 MC kittens and 3rd All Breed Kitten on 120. After that she has been shown at Tica Shows in Europa and in US, and gained 25° All Breed International Winner Kitten with 5900 points and 6° Best Maine Coon Kitten (dated 12/'06). In November '08 Sissi is achieved to be Supreme Grand Champion Tica. Sissi is really a exceptional girl with so high qualities !!
Her dad is RW CH Maine Suspect Tizian of Tuscaloosa (red classic tabby with white) and her mummy is Tuscaloosa Fabulous Frannie (brown classic tabby with white). The father of Sissi is negative of HCM with DNA testing and her mother is Heterozygous of HCM. Sissi is also Heterozygous HCM but her echo test shows her heart is perfectly healthy. And both of her parents are negative of HD.
Now in June '13, Sissi was neutered and retired from the world of breeding. She was a great breeder making many SGCs or Champions. Now she will enjoy the retired life.
The list of her litters:
Sissi
--->
1 RW.SGA Tica, 1 INT.CH
AWARDS (TICA)
(kitten class)
3°,9°(D) TICA Annual Show( 09/06 )
5°,1°,5°,1°,4°,3°,1°,7°,2°(A) (09/06)
2°,4°,6°,6°,2°,4°,6°,4° (F) (10/06)
6°,2°,3°,7°,1°,4°,5°,2°,3°, 2°(B) (10/06)
8°,10°,4°,2°,7°,6°,6°,5°,2° (A) (10/06)
3°,8°,7°(USA)(11/06)
10°,10°,1°,8°,1°,(USA)(11/06) ---->REGIONAL WINNER
(adult class)
BEST MAINE COON KITTEN OF THE YEAR 2006/2007 (ES)

8° BEST KITTEN OF THE YEAR 2006/2007 (ES)--->REGIONAL WINNER

BEST BROWN CLASSIC TORBIE/W MAINE COON OF THE YEAR2007/2008(ES)