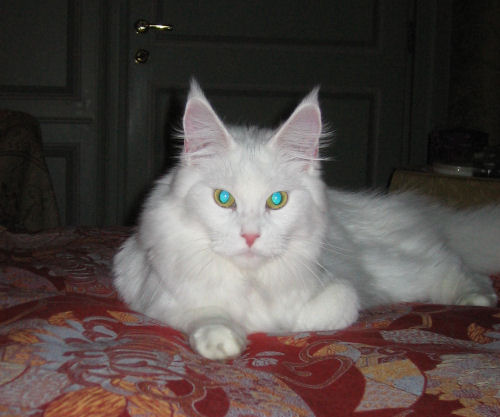 Sistina is out of first litter of Meggie and Milky. This litter was only in white babies ; one girl and two boys, and are all wonderful, very tipy babies. One boy is gone to a Belgian breeder and he is showing well. Another boy is also in Belgium and he has very rare odd-eyes. Her mother Meggie is from Coonyham Cattery and bred many wonderful huge babies, and the father Milky is a white Supreme Grand Champion coming from Japan and is a great breeder making a lot of wonderful babies.
Sistina has a wonderful high set large ears and very squared muzzle with a strong chin and her profile is also excellent. She is not a huge girl but her body ballance is excellent with a good boning. Her coat is always incredibly white with the good straight quality. Her tail is very long with a gorgeous fluffy furs. She is a funny chattering girl and she plays all the time ;-))
Sistina had a wonderful litter of 6 with Genji on 27th March .
Sistina had a test of HCM with DNA and the result is NEGATIVE (June '08).
Sistina didn't give any kitten after a gorgeous litter with Genji. Unfortunately we had to neuter her now.
The list of Sistina's babies:
AWARDS(TICA)
kitten class:
8°,5°,3°(A) (06/07)----> BEST WHITE MAINE COON OF THE YEAR 2007/2008(ES)