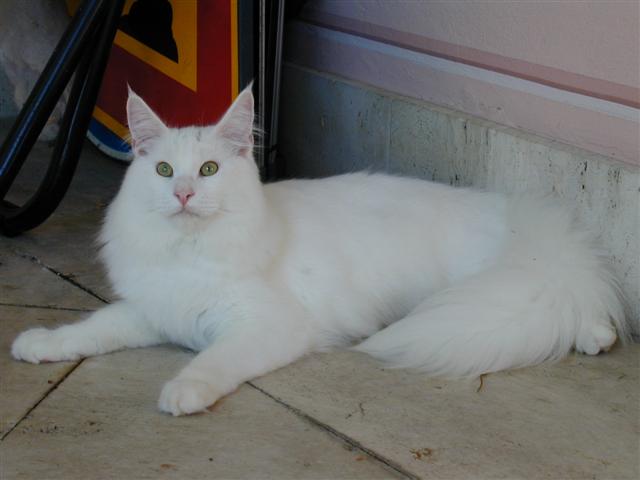 Milky is coming from a Maine Coon Cattery of OHEDO in Japan. But he was grown up with his father RW. SGC.KOONTUCKY JULY FROST OF WILLIAMINA OS at Michiko Sasamoto as a house pet. But, Michiko who was almost closing her cattery that moment, thought Milky is too pretty to stay as a house pet. And she proposed us to keep this wonderful white boy in Italy.
In fact, MILKY is a white boy who has a lot of high qualities - his coat is nor silky nor wooly, but is tough and straight, and remains always very white. He has also the wonderfuly high set ears and has a very squared muzzle with a strong chin. His body and tail are very long and he has a strong boning. Besides, his character is so sweet and is a playful boy. He has the green coloured eyes.
As soon as Mikly arrived he started to compete at TICA shows in Europe. At the biggining, as he was grown as a house pet, he didn't show his qualities much. But from the second show, his attitude was changed completely and started to show himsel very proudly ( how surprise and satisfied us !! ). Then, he became to be a Supreme Grand Champion in a short period.
His mam is IROHA, a pretty brown classic tabby at OHEDO cattery in Tokyo. Milky is from an extraordinary litter and some of his bothers are alredy SGCs, QGCs.
Milky has been controlled HCM in March '07 and confirmed NEGATIVE. His both parents have HCM/DNA Negative.
The list of his litters :
* Milky x Zelda (2004 one silver girl & two white girls) -- photo
* Milky x Zelda ( 2004 one redsilver boy & one white girl) -- photo
* Milky x Naf Naf (2005 one white girl) -- photo
* Milky x May (2005 one silver girl) -- photo
* Milky x Zora (2006 one white girl) -- photo
* Milky x Meggie (2007 two white boys & one white girl) -- photo
* Milky x Meggie (2007 one rtedsilver boy & one brown torbie girl) -- photo