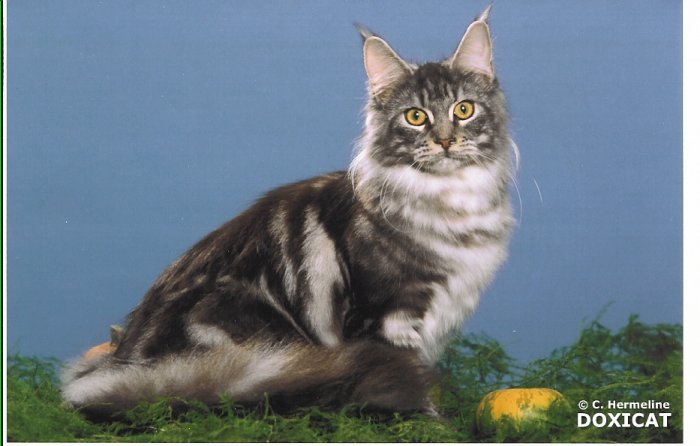 MAY
is the daughter of ZELDA and BUBBA. She is from an extraordinary litter and most of her siblings are high standard kittens, like SHADOW OF MACAVITY, CHIARA OF CHILIPEPPER and MARCO POLO.
MAY has extraordinarly big ears very well set and a very squared muzzle, has a long muscled body (which is very rare for a girl). The color of her coat is very pretty with the contrast of black and silver with the beautiful classic pattern. Besides, she has a wonderful character and purrs constantly. Also she is a playful girl and always very alert when the judges come close to her with the feather stick. She is really a show girl and now became almost a SGC !!
After having many titles finally she became a mother of a silver classic girl on November 03 '03, and the happy father was Cosmo. Then she had again a very pretty silver classic girl on March 20th '05 by Milky. She might be a homozygous silver as like her mother.
May got the triple title of REGIONAL WINNER in following three years !!!
She had her first check of HD & HCM on June '03 and the result was very good.
She had again the echo check of HCM on Novembre '08 and her heart is perfectly healthy. And her DNA test of HCM is NEGATIVE.
She gave us many wonderful babies, but now she is neutered and let her enjoy the retired life .
The list of May's babies: