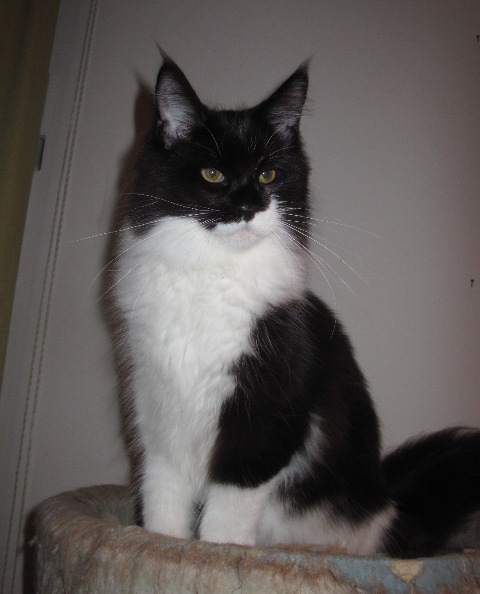 LUNA is out of GALE and TAO, and a sole kitten.
LUNA is a very sweet kitten and when I enter the kitten's room she rolls over herself on the ground to show her joy. She is so lovely !!
LUNA has an extraordinary body - long, thick boning as like a boy kitten. She has nice ears highly placed. Her profile is almost perfect with the strong chin. She has very long tail with fluffy coat and her black coat is always shining brightly. Her black and white colour pattern is assimetric and difficult to see her morphology but she is still a very pretty cat.
Both parents of LUNA is HCM-N/N, PKD negative.
When she had 5 months, she was shown at Tica Show in the kitten class in Austria as the first time, and she got two finals. She did great and wasn't afraid of anything. Good girl !!
She became a mother of 4 babies with Mac. She is also a great mother.
Now 0n the 28th May '14, she got a wonderful litter of 7 huge babies with Michelangelo. They are very tipy and gorgeous !!
The lists of her litters: