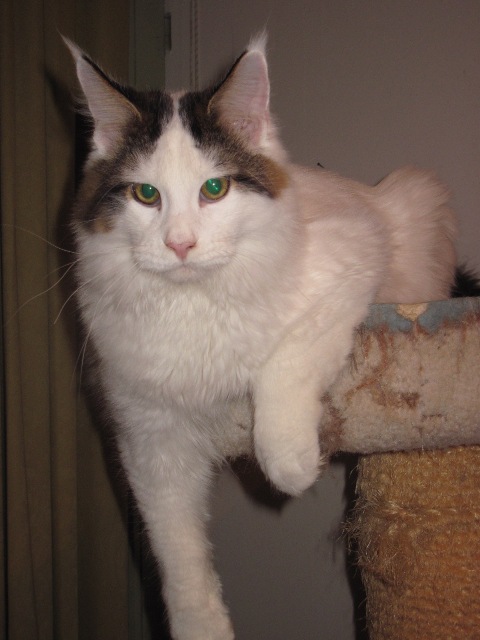 MAC 's father is CH. SARAJEN TAO and his mother is our SNOWBOOTS who is the daughter of IW SGC WILLIAMINA GENJI of WISTARIANTALE and RW QGC WISTARIANTALE MAY QUEEN.
It was a surprise that we had a boy with so high white. Mac is growing very big and strong boy. At the age of 4 months at his first show the judges thought his age was mistook as he was so big. His name "Liberation" is coming from his birthday which is "Liberated Day" in Italy.
Mac has a wonderful head type having very long squared muzzle, huge highly set ears (he has white lynx tips and white tail tip ;-)) He has a well structured and hard muscled long body and his tail is very long. This is a very promising boy. Besides, his has a lovely character and when I enter his room he rolls on the ground to show his joy, that makes me happy too.
His blood line is our original line out of TIME/BELLA -> BACI -> BUBBA -> MAY -> BOOTS. He is pure Wistariantale !!
Now he is spayed and we're looking for a new family for his adoption.