RW.SGA.TICA WISTARIANTALE SYRIUS (Sirio)
Red Silver Classic Tabby with white (male)
Date of birth 07. 18. 07
(SPAYED)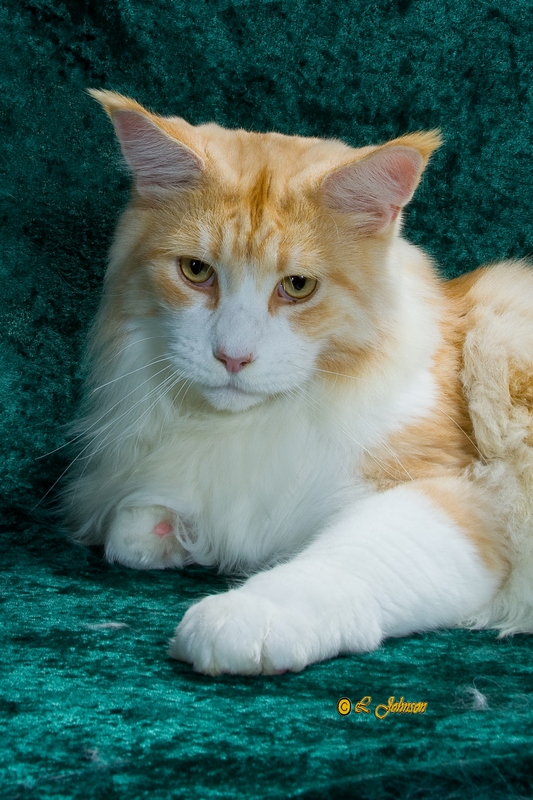 Syrius is from the litter of Sissi and Rio with five boys. They are huge boys and all of them is high qualitied. Syrius has been already shown at Tica shows as a kitten and had some finals consequently he got Regional Winner 2007/2008.
Syrius has a wonderful long and very squared muzzle with perfect profile. His ears are large with nice lynx tips. His body and boning are very solid and has a long tail. He has a fascinating redsilver color with nice classic pattern with very rare red merle dots. Besides, he has a very sweet lovely character and a playful boy!!
His litter brother in black silver & white Stardust is now spayed and living happily in a family in Varese.
Now Syrius is spayed and we brought him to Austrian Tica show, and had a incredible successes in neutered class - he had 14 finals on 14 rings with 7 Best Alters !! He became ONE SHOW GRAND CHAMPION ALTER. Then, he is shown again in December '10 at Austrian Show getting 3rd Best of Best Alter and achived Quadruple Grand Alter !! And now in March '11 he finished his carriers gaining Supreme Grand Alter at German Show. Oh, he is a extraordinary wonderful boy ;-))
Now he is retired and living with our daughter Mio in Sardigna island in a wonderful climate. He is really enjoying his gorgeous retired life. ;-))
The list of his litter:
AWARDS (TICA)
(kitten class)
8°, 8°, 8°, 1°(A) (01/08)
10°, 3°, 8°, 8°, 7°(D) (02/08)
2°, 4°, 1°, 5°, 4°(F) (02/08) ---->REGIONAL WINNER

3RD BEST MAINE COON KITTEN OF THE YEAR 2007/2008 (ES)

20TH BEST KITTEN OF THE YEAR 2007/2008 (ES) ---> REGIONAL WINNER
(alter class)
1°, 1°, 1°, 1°, 5°, 3°, 3°, 1°, 1°, 3°, 2°, 4°, 1°, 4°(A) (10/10) 7th Best Alter---> CHAMPION ALTER, GRAND CHAMPION ALTER, DOUBLE GRAND CHAMPION ALTER
4°, 5°, 4°, 1°, 2°, 2°, 2°, 2°, 1°, 2°, 1° (A) (12/10) 3rd Best of Best Alter ---> QUADRUPLE GRAND CHAMPION ALTER
5°, 2°, 1°, 4°, 1°, 1°, 2°, 2°, 3°, 2° (D) (03/11) ---> SUPREME GRAND CHAMPION ALTER