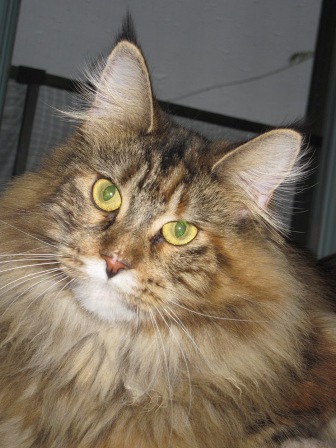 Imari is out of first litter of Saigon and Genji. RW. SGC. Wistariantale Tempesta, RW. QGC. Wistariantale Huji of Smokeycoons and DGC. Wistariantale Lupo of Lionheartcoon are the littermates of Imari. It was a gorgeous litter and all of them has the successes of the show !!
Imari already got a title of Champion at Tica Show with the prize of Best Cat. Imari has a beautiful head with the highly set large ears, squared muzzle with strong chin and her profile is well pronounced. Her body and tail are long enough. Her coat is with the flash of fascinating red colour, that's why her name is Imari as like the Japanese traditional wonderful porcelaine. Imari is also an extraordinary atheletic girl climbing everywhere where she may reach. Her agility and the flexibility are incredible (non breakable ;-)). Though she has a wonderful sweet character asking a lot of cuddling ;-))
Both her parents are Negativ of HCM/DNA, conseguently she is N/N.