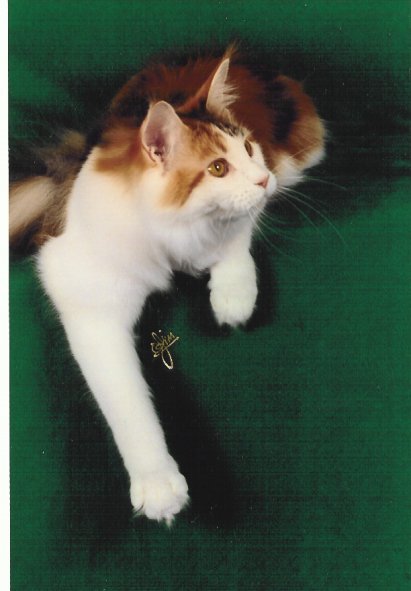 For a long time we wanted to have

a baby by Caliente as we were fascinated by her type and her body color.

And when we visited COONYHAM Cattery in May '03 we met a gorgeous colored tiny baby girl by Caliente. She is PAGAN, now a member of our cattery.

As soon as she arrived in Europe she was shown at French Tica show, but she

was a very shy girl and was very difficult showing her at that moment. She was hissing and had no confidence with anybody.

Then after arriving home we let her stay alone

to be quiet after a long journey and a stressful show. And every time we went into her room she escaped and tried to hide herself. Then we were absent for a week and when we come back we found her completely changed - PAGAN became a gentle lovely angel !! So friendly, she likes us to be caressed, she

shows her joyfulness rolling on the bed and

leaks even our hands :-))

What a happy surprise !!

What made her changed ??!!

Now she is not afraid of anything and doing quite well at TICA shows becoming QGC quickly.

She even likes to play at the table of the judges now. We are very happy of PAGAN.

PAGAN has a lot of excellent qualities - wonderful squared muzzle with a strong chin, huge highly set ears, long body and long fluffy tail, and a excellent solid body.

Especially her body color is so gorgeous and very rare to have such a flushy torbie color - so brilliant and intense red color which makes a beautiful contrast with high white color.

Her dad is IW. SGC. COONYHAM ROUGH RIDER and her mam is DGC. PINECOON CALIENTE OF COONYHAM.

We can't thank enough to Laura & Sharon for giving us such a gorgeous girl.

We tried to breed her many times but we failed to give her the babies. Now we decided to neuter her to make her enjoy the retired life.