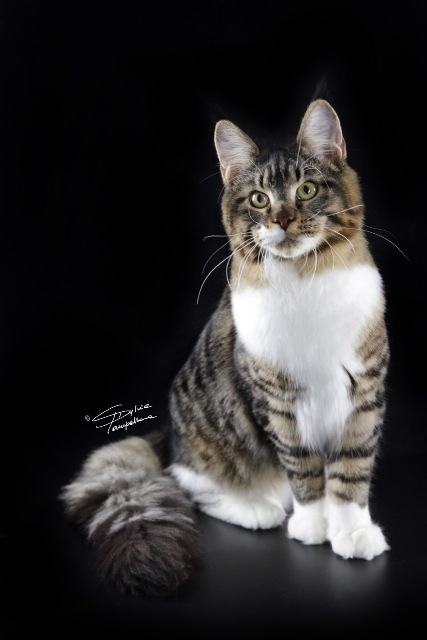 Tosca is out of our Boots with Felidream Siddartha who is owned by our friend Carmen Ortoni. This is a wonderful litter of 4 kittens including our black girl Samantha, Avatar and Mino. Avatar is living with his father and shown already many times at Fife and getting almost Junior Winner. It was a success of two combined quite different lines.
Tosca has the large highly set ears with the squared long muzzle. Her thick body is wonderfully balanced and very long, and amazingly well musculed as a girl. She has an wonderful friendly character always purrs.
She is HCM-N/N genetically. She has been checked PKDeficincy and result was Negative.
Tosca has been shown at Tica Show as a kitten and had one final. Also was shown at WCF Show in Switzerland and had the Nomination.
Now she had a litter of one baby with my friend Carmen Ortoni's own wonderful black silver/white boy Ka'Sh'Poo on the 30th May as the first time.
She had a wonderfull litter of 7 with Michelangelo but unfortunately she passed away after the birth of the kittens acause the embole trombosie. It was a big tragedy with 7 orophans but fortunately my friend had a litter just few day before and survived the kittens. Also Gale gave birth 3 babies after one week and she helped us sursing.
Tosca, we miss you a lot, you were a great breeder. Look at your kittens grown up nowadays greatfully. Sleep well peacefully. We love you.
The list of her litters:
Tosca
AWARDS:
kitten class (Tica)
kitten class (WCF)