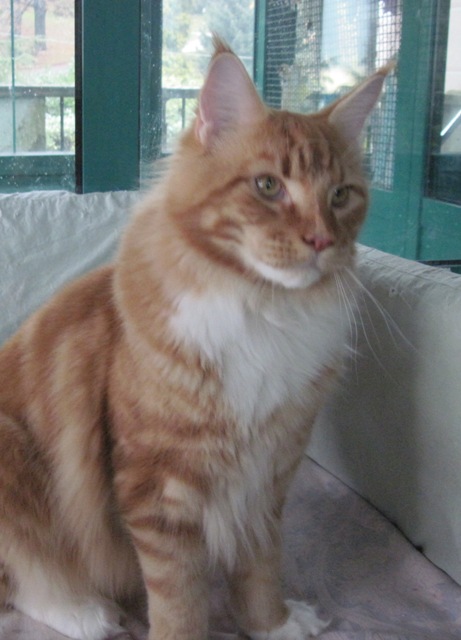 Vivaldi is an adorable big boy who weighs 8kg now and has been vivacious since his childhood. He never stops running, jumping up and down. But he has been always sweet and asking cuddling. He is a big and very muscled boy with a long body ,high hocked legs and his tail is extremely long. His large ears are highly set, his muzzle is very squared and his profile is very nice with a strong chin. His body colour is very warm and intensive with excellent pattern. His expression shows that he seems very naughty as like a small boy but sometimes he shows himself with the dignity. On the contrary in the show, he changes into a very shy boy and he was not able to show himself. How pity !!
His parents are: RW.SGC. Wistariantale Michelangelo, our giant brown with white boy and the mother is TGC Coonung Nitingale of Wistariantale, an elegant black tortie.
He is genetically negative of HCM and PKD, and he is also negative for PKDeficiency.
IL PEDIGREE